STUDENT FINANCE IS GIVING ME MONEY!
AN IMPRESSIVE FEAT!
My loan doesn't even cover the accomodation fees for the year though LMAO. I've got a while to wait until they can even look at my evidence for the grant :|
I was out with a friend yesterday just having a chat and... whilst talking about how CLOSE Uni was, I realized I'm
MOVING INTO DORMS NEXT SATURDAY 0__0
That's... one week and two days. I'M FREAKING OUT. More scared than excited at the moment, mainly of:
1.
BEING A LOSER WITH NO FRIENDS
2.
Being unable to keep up with going out and going to 9am lectures (oh and there's a 9am plenary on a saturday, too :| )
3.
Falling asleep with my contacts in and consequentially getting surgery on my brain to get them out or something.
I really need to start packing 0__0
Oh, but here's something that's
even more scary
than those three points above... COMBINED: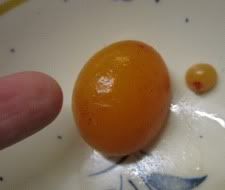 My dad found this yesterday in a chicken he was slicing open. 0_0 Raw, of course. A sort of...
yet-to-develop egg
. Two of them.
Sort of fascinating but incredibly disgusting at the same time.
Which made me wonder how I would react to cutting open cadavers (or parts of them. MAN.)
p.s. that's my FINGER on the side. For like.. a measure of size :S
p.p.s. Oh actually I ate an omelette after that ordeal, so I guess it didn't affect me THAAAT much afterall :/